Immerse yourself in our history, traditions, lifestyle and a lot more in the first Free Tour in Girona!
  Where: Plaça Independència
  When:   
  Tue, Wed, Thu & Sat
}  Time:  11:00
  Duration: 2 hours
Highlights
 Cathedral of Girona
 Jewish Quarter
 Sant Feliu Basilica
 Old town (Barri Vell)
 Mercadal & Independència
History, Legends and Food
Learn about Girona's history, discover our legends, and sample the best local delicacies along the way!
  Where: Plaça Independència
  When: 
  Wednesday & Friday
}  Time: 11:00
  Duration: 2 hours
Highlights
 Girona Cathedral
 Sant Feliu Basílica
 Local food tasting
 Onyar river & bridges
 Old Town & Jewish Quarter
  28€   kids of up to 15 free
The 11 Tastings of Girona
Discover our medieval charm and local flavors. Explore the city and savor a sensory journey through time!
  Where: Plaça Independència
  When: 
  Wednesday & Saturday
}  Time: 18:00
  Duration: 3 hours
Highlights

Xuixo and ratafia
Sant Feliu Basílica
Local beer, wine and cava
Old Town & Jewish Quarter
Cold meats and cheeses
Onyar river & bridges
Girona Cathedral
  80€   35€ kids of up to 15
Download our guides in PDF
Map & guide
Of Girona, Besalú, Figueres, Cadaqués & the region. With pics, suggestions and the best places!
Game of Thrones
Enjoy this self-guided tour through Girona and visit all the filming locations in the city at your own pace.

The best
The 1st Free Tour in Girona, with more than 4.000 positive reviews

You set the price
Our Free Tours operate on a Donate-What-You-Feel Basis

100% local
Unique experiences with amazing guides born and raised in Girona

Guaranteed satisfaction
More than 6.000 tours and over 60.000 happy guests
trusted  on




What people think of Girona Free Tour

Rosa T.
Nuestro guía fue Dani, que consiguió que la visita fuera interesante y amena, desde la proximidad y la simpatía, además del conocimiento que tiene de la zona y su historia. Nos quedamos con las ganas de realizar más rutas con ellos pero no coincidimos en horarios.

Marta O.
Nos hizo el tour Quim, un chico muy simpático que hizo del tour, pasar un muy buen rato. Nos explicó de todo.. como tiene que ser un tour. Y tanto lo turístico como lo anecdótico, con muy buen humor.
Muy recomendable!!! 100%

Júlia Juan
Superó nuestras perspectivas, ya que Dani el guía que nos hizo el Free tour nos dio tantos detalles que hizo de esta visitas se nos hiciese corta y eso que duró más de 2 horas. es recomendable gracias por hacernos conocer la Historia de Gerona.

Mireia G.
Realizado con Quim. Nos ha gustado mucho, se nos ha hecho muy corto. Pensábamos que lo iban a hacer en castellano y nos ha encantado que nos separaran en dos grupos para los que preferíamos en catalán y para los que preferirían castellano.



Lídia Bueno
Cinco estrellas sin duda para Dani y el gran tour "Girona Imprescindible". El tour empezó puntual y duró casi 2,5h. Las explicaciones fueron muy amenas y llenas de interesantes datos históricos, anécdotas e ingeniosas bromás. Muchas gracias Dani por tu energía y admiración a Girona y el amor a tu trabajo. Carmen & Lidia

Graham H.
Un muy buen tour en el cual Quim estuvo de primera clase. Habló con claridad e inteligencia. Fue bien organizado, profesional y lo hizo todo con sentido del humor. Me gustó el hecho de que ocasionalmente nos mostraba fotos de escenas antiguas de Girona y de escenas de Games of Thrones.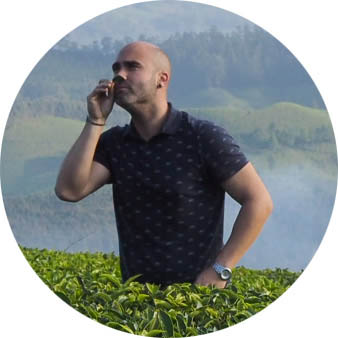 Quimi
This self-proclaimed coffee connoisseur considers traveling a sport and, himself, a sportsman. Unfortunately, he can't be traveling full-time, so he started this company to be able to continue traveling where he loves the most: his beloved Girona.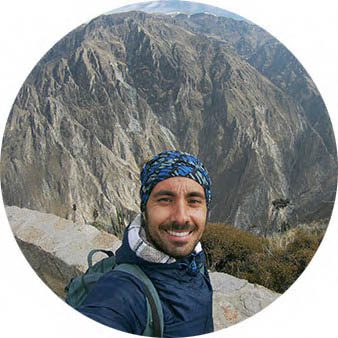 Dani
Although graduated in Law, Dani always alternated his studies with the world of tourism, in which he ended up specializing. After leaving his boring job and going on long journey through America, he realized that his passion and heart resided in his native Girona.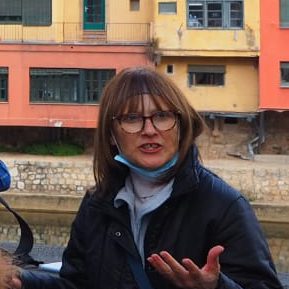 Fina
A historian by heart, passion and job, Fina is a never-ending source of local, historical knowledge. During her studies, she completed her thesis with former mayor and now Conseller Quim Nadal, worked at Casa Masó, and is an expert in everything that has happened in Girona.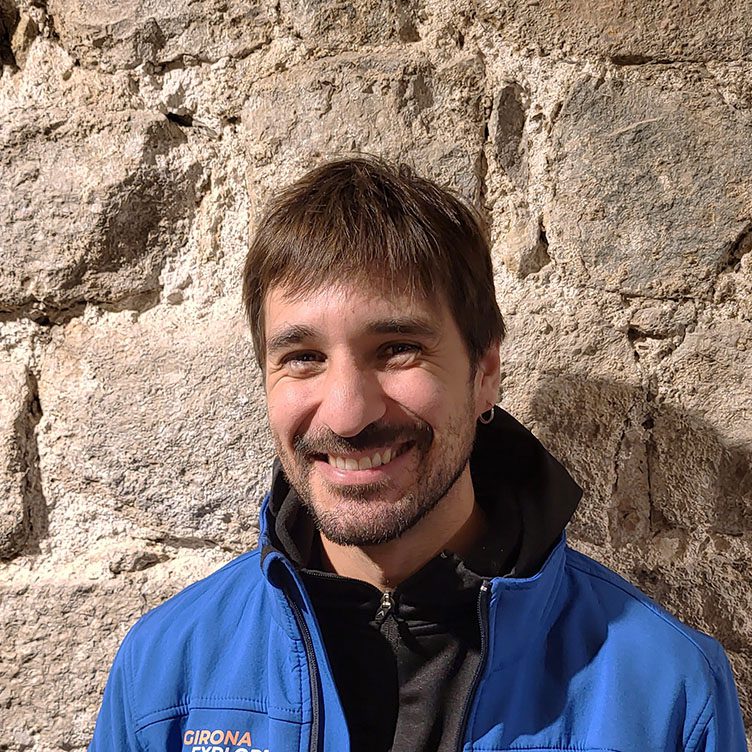 Ferran
Archaeologist who loves digging up old things and pretending to know what they are, Ferran combines his work as a guide with a Doctorate in History at the University of Girona. You will see him on the streets talking about Girona's past or down in some hole with a spatula and a brush.
Frequently Asked Questions
How can your tours be free?
Our Free Tours are based on tips only! Part of this will cover marketing and operational expenses. This way we achieve great quality in the tours, immense guest satisfaction and we also make sure that, regardless of the budget, everyone can enjoy Girona as much as we do.
Do I need to book?
Booking is recommended! However, any person or group, without a booking and if there are available spots, can join the tour. For paid tours, however, it is essential, since the guide will only show up if there are reservations.
How do I find you?
Once at the meeting point you will see our guides, dressed with our turquoise blue or emerald green colors.
We're a big group. Can we still join?
We always try not to leave anyone out but, sometimes with large groups, it is difficult to organize the tour and the guides. We always ask that, if you are a group of more than 6 people, you contact us by mail or WhatsApp and we will see how we can solve it.
I have booked a Free Tour on an online platform. Is it you?
Most probably, yes! The possibilities are very high, as the majority of Free Tours in Girona that are on platforms are operated by us. Make sure it's us to come to the best Free Tours in Girona!
Do you offer private tours?
Yes! If you are a school, a very large group, or have a particular interest, feel free to contact us. We will answer right away and adapt the visit as much as possible to your needs. This is our specialty!
Do you offer other tours or day trips?
Our sister company Girona Explorers offer these and much more. Check gironaexplorers.com and see it yourself!